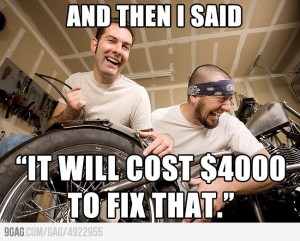 This post will save you heartache and money. Your website can and should be one of the main drivers of leads for your business. Before you hire a web developer, there are some things you should know to ask.
The majority of buyers go online to research their purchase decisions and your website needs to accomplish many things: It should align with your business strategy; be findable via keywords and via the content you publish; and gain and nurture trust to convert those visitors to a paying customer.
Hiring a web design firm is a therefore a pretty big decision and I see too many businesses outsourcing the project in a silo-ed fashion to a web developer who doesn't have a clear understanding of the role the site needs to play in the bigger picture.
As in any industry, there are the good guys and the bad guys. The problem is, you don't know if you're dealing with the good and the bad. Just like when I take my car in to get fixed, you could sell me a whole package of BS and I'd buy it, because I haven't a clue.
If your web design firm isn't asking you the right questions and if you, in turn, aren't asking the right questions, you might end up with someone who will do a nice enough job, leaving you with a website that is far short of your potential and you don't even know.
It's critical to approach your web project strategically with the next few years in mind otherwise you end up needing to start over, or make expensive changes down the road;
Heartache and money.
I say "a few years" because technology is changing so rapidly, we really can't think beyond a few years at a time when it comes to actual tools.
At Big Leap Creative, we don't do web design in-house, but we work with developers on behalf of our clients, or we consult with them through their project. I do however, have intimate relationships with my clients' sites and I shake my head often: The limitations can be costing you who knows HOW much in revenue.
What to Look For Before Hiring a Web Design Firm
Before you share a ton of information, I'd be curious to let them take the lead and see what questions they are asking you. Then save your questions to the end, which we'll get to.
Hopefully, they want to know these things:
What is the goal(s) of your website? You want measurable goals with timeline.
Who is your target audience(s)? Tell us everything you know about them.
Prioritize #1 and #2.
What information do you want to share? Give us a list. (they'll ask about content, who's writing it, photography, etc.)
They'll ask about functionality – ecommerce, blog, video, etc.
Talk about content management systems (CMS). This is the back end of the site, and where you can add your fresh content every day – change things, change everything without waiting days for your web guy to do it! It's easy. Even you can do it.
What do you want your visitors to do? You have to dig into this and create a path for each visitor at each stage of the sales funnel from brand new, to warm lead, to ready to buy. So you want them to do things like sign up for a free newsletter, get a download, make an appointment. THIS IS THE STUFF THAT MAKES YOU MONEY.
The first five questions are no-brainers. I'm sure they are talking to you about this. But let's talk about content management systems. I always recommend self-hosted WordPress sites. This site is WordPress built on Genesis child theme. I can't think of any reason why you wouldn't do WordPress unless you are a large enterprise. It's flexible with the availability of gazillions of plugins to customize. It is secure and constantly updated with changing technology.
I've worked with Smarsh and Ubertor and they aren't great. With Ubertor, I was trying to edit meta tags (these are the page titles and descriptions you see in search engine results pages and are critical to SEO.) To do that, I needed to upgrade to the SEO package for $495. I asked why it was so expensive. This is a very basic feature. And they immediately backed down and gave it to me for free. Um, yeah. Car mechanic syndrome.
How Much Does a Website Cost?
You get what you pay for in web design so don't think the $4000 guy is ripping you off over the $2000 guy.
You can find someone to do a basic blog/website on a non-custom theme starting at around $2000. Step it up with custom themes for closer to $4000. And then of course, the pricing increases from there with increased functionality.
If your budget is small you can do it yourself. Or go with a lower cost option knowing you can easily upgrade when you are able. That's what we are doing with the my husband's Small House Winery website.
Obviously, the return on investment will be exponential to how awesome your site is. That doesn't change the fact that cash flow is cash flow. So get it started and reinvest the money to do it better down the road if need be.
Questions for your Proposed Web Guy
If your guy or gal hasn't talked about it yet, you might want to ask him things like:
Will it be mobile and tablet responsive? I don't have to tell you this should be a must in this day and age, right?
What plugins do you suggest given what we are trying to achieve? You'll want Google Analytics installed so you can track traffic, Yoast SEO plugin so you can optimize your site to get found, Premise to create landing pages, and many many others. But you wouldn't know so you rely on them for this feedback.
Are you going to import our content from our previous site? Answer should be yes.
Should we change domain names? Don't change domain name unless you absolutely have to. I don't want you to lose all the good SEO juice you've built up.
Talk to me about the transfer once we go live with the new site. What is the process? What are the risks? Will there be downtime? Are you prepared to minimize that, and if so, how? This might be like saying "Donde esta el baño" on vacation in Spain and being so proud of yourself but then not understanding a word of response. That's OK. Take notes and find someone to help and get a second opinion.
If you're going to be using a digital marketing agency separate from your web design firm, get them involved on a consulting basis at the beginning. This will save that money and heartache down the road. I promise.
I've inherited too many sites that limit our ability to get found online, to add widgets and sign-ups. They greatly inhibit your business to generate and convert leads online. This is too important for you not to be informed when you begin the process.
So, I'll turn it to you for questions, and hopefully from web design friends and experts – what did I leave out? What do you ask before you hire a web developer?